Since I don't get enough gigs, or any at all, I though I'd make a sound-system so I could go wherever and play a little show. So I decided to build a sound system that was moderately movable and would work of the grid.
Features:
So a featureset that I though was the least I could work with was this: It should be able to work without being connected to an outlet. It should have lights and it shouldn't be to heavy to move around. Ateast not by a small wagon. And it should be loud. Not Mötorhead loud but loud enough. It should also be cheap enough so that I would not cry if it got trashed or stolen after a few gigs/parties.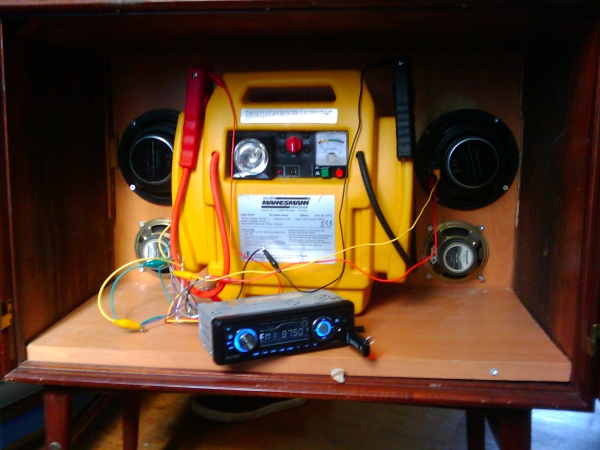 Materials:
So what do I need to get this together? some sort of battery, and a way to charge it. Luckily there are these car-starters charger thingys that you should use as help of your car battery dies. I bought one of those. Then a car-stereo I found. One that takes memory cards and USB-sticks and has a line in on the front. To control the lights I needed an Arduino, a few LED's for the lights (I bought 200) and some sort of measuring the beat so that the lights could be synced to the tempo of the songs. I thought I could use a piezo and do the Arduino knock example, but later experimentation showed that I had to settle for a button-based solution.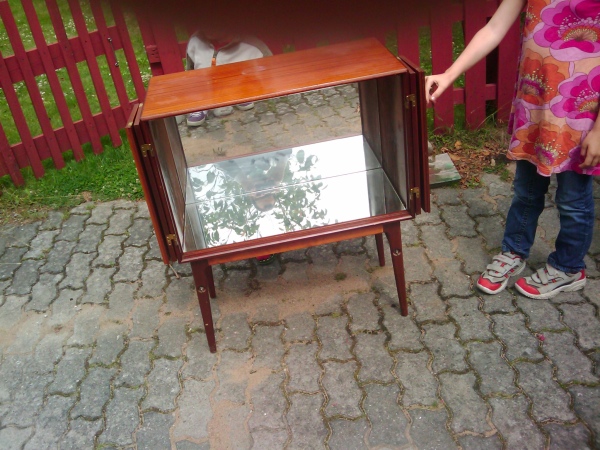 The build:
A box takes time to build, and woodworking is not my passion. So I went and gotten a box. It used to house a philips radio, way back when you did not have any TV's. There was mirrors and everything in that box. but the back was just paper so I had to reinforce it. I mounted the speakers there and also the LED's. I arranged the LED's in groups to enhance the amount of light. Half of them are blue and half are white. The LED obscuring part did not work as I thought it should, But the results was OK anyways. As for the tentacle-painting. I don't know. I like tentacles, not in a Hentai/Manga way, but just the cartoonish style of them.
The Arduino code:
The code is pretty basic. It multiplexes the led's so that I did not have to add a shift registers. It also reads a button so that I can sync the lights by tapping. the code is pretty self-explanatory.
//tempo variables
byte tempo=120;  /* bmp of our sequence */
long rememberMillis=0;
long timeChange=250; /*a variable for calculating how long we are going to wait*/

//The light's stuff
int ledColWhteAndBlueRing[8] = {
 6,9,3,5,2,4,10,8 }; //these are the blue led's in order. Why no pin7? why not in order? Lazy at the wrong time I guess
int ledColSmall[8] = {
 3,2,9,6,4,8,10,5 };

// tap button
#define tapButton 14
byte tapButtonState;
byte lastTapButtonState = LOW;
long tapOldTime =0;
long lastDebounceTime = 0;  // the last time the output pin was toggled
long debounceDelay = 50;    // the debounce time; increase if the output flickers
boolean justPressed = false;

byte currentLamp=0;
#define lampChange 100
int lampCounter=0;

float ix=0.0;
float ib=0.0;
float is=0.0;

float ixSpeed=1.0/4.0;
float ibSpeed=1.0/4.0;
float iySpeed=1.0/4.0;

int lampFrame[3][8]=
{
 {    1,0,1,0,1,0,1,0      }
 ,
 {    0,1,0,1,0,1,0,1      }
 ,
 {    0,0,0,0,0,0,0,0      }
};

void setup()
{

 pinMode(11, OUTPUT);
 pinMode(12, OUTPUT);
 pinMode(13, OUTPUT);

 digitalWrite(11,HIGH);
 digitalWrite(12,HIGH);
 digitalWrite(13,HIGH); 

 pinMode(tapButton,INPUT);
 /*starting the builtin pullup-resistor!*/
 digitalWrite(tapButton,HIGH);

 for (int i=0; i<8;i++)
 pinMode(ledColWhteAndBlueRing[i], OUTPUT);

 /*calculating the timeChange variable. milliseconds divided by
 tempo and 16th note, or something like that. I dont remember*/
 timeChange=((60000/tempo)/8);

 rememberMillis = millis();

}

void workSmall()
{
 digitalWrite(11,LOW); 

 for (int i=0; i<8;i++)
 if(lampFrame[2][i]==1)
 digitalWrite(ledColSmall[i], HIGH);   // set the LED on
 else
 digitalWrite(ledColSmall[i], LOW);   // set the LED on
 delay(1);

 digitalWrite(11,HIGH); 

}

void workWhite()
{
 digitalWrite(13,LOW); //White

 for (int i=0; i<8;i++)
 if(lampFrame[1][i]==1)
 digitalWrite(ledColWhteAndBlueRing[i], HIGH);   // set the LED on
 else
 digitalWrite(ledColWhteAndBlueRing[i], LOW);   // set the LED on
 delay(1);
 digitalWrite(13,HIGH); //White
}

void workBlue()
{
 digitalWrite(12,LOW); //Blue

 for (int i=0; i<8;i++)
 if(lampFrame[0][i]==1)
 digitalWrite(ledColWhteAndBlueRing[i], HIGH);   // set the LED on
 else
 digitalWrite(ledColWhteAndBlueRing[i], LOW);   // set the LED on
 delay(1);
 digitalWrite(12,HIGH); //Blue
}

void moveLamps1()
{
 for (int i=0; i<8;i++)
 {
 lampFrame[0][i]=0;
 lampFrame[1][i]=0;
 lampFrame[2][i]=0;
 }
 lampFrame[0][int(ix)]=1;
 lampFrame[1][int(ib)]=1;
 lampFrame[2][int(is)]=1;

 ix+=(ixSpeed);
 if (ix>8)
 ix=0;

 ib+=(ibSpeed);
 if (ib>8)
 ib=0;

 is+=(iySpeed);
 if (is>8)
 is=0;
}

void moveLamps2()
{

 for (int i=0; i<8;i++)
 {
 if (int(ix)==1)
 lampFrame[0][i]=0;
 else
 lampFrame[0][i]=1;

 if (int(is)==1)
 lampFrame[1][i]=0;
 else
 lampFrame[1][i]=1;

 if (int(ib)==1)
 lampFrame[2][i]=0;
 else
 lampFrame[2][i]=1;
 }

 ix+=(ixSpeed);
 if (ix>2)
 ix=0;

 is+=(iySpeed);
 if (is>2)
 is=0;

 ib+=(ibSpeed);
 if (ib>2)
 ib=0;
}

void moveLamps3()
{
 for (int i=0; i<8;i++)
 {
 lampFrame[0][i]=0;
 lampFrame[1][i]=0;
 lampFrame[2][i]=0;
 }

 lampFrame[0][int(ix)]=1;
 lampFrame[1][int(ib)]=1;
 lampFrame[2][int(is)]=1;

 ix-=(ixSpeed);
 if ((int)(ix)<0)
 ix=7;

 ib-=(ibSpeed);
 if ((int)(ib)<0)
 ib=7;

 is-=(iySpeed);
 if ((int)(is)<0)
 is=7;
}

void checkButtons()
{
 int reading = digitalRead(tapButton);
 if (reading != lastTapButtonState)
 {
 lastDebounceTime = millis();
 }
 if ((millis() - lastDebounceTime) > debounceDelay)
 {
 tapButtonState = reading;
 if(tapButtonState==true && justPressed==false)
 {
 //this is the most basic tempo calculation I could think of
 justPressed=true;
 timeChange= (millis()-tapOldTime)/8;
 tapOldTime=millis();
 }
 else if (tapButtonState == false)
 {
 justPressed=false;
 }
 }
 lastTapButtonState = reading;
}

void randomizelampSpeed()
{
 ix=(rand()%4)+2;
 is=(rand()%4)+2;
 ib=(rand()%4)+2;
 ixSpeed=1.0/((rand()%6)+2);
 ibSpeed=1.0/((rand()%6)+2);
 iySpeed=1.0/((rand()%6)+2);
}
/*our main baby */

void loop()
{

 workSmall();
 workWhite();
 workBlue();

 if( (millis()-rememberMillis) > (timeChange)) //this is one
 {
 rememberMillis=millis();

 switch(currentLamp)
 {
 case 0:
 moveLamps2();
 break;
 case 1:
 moveLamps1();
 break;
 case 2:
 moveLamps3();
 break;
 default:
 break;
 }
 lampCounter++;
 if (lampCounter >= lampChange)
 {
 currentLamp = rand()%3;
 lampCounter =0;
 randomizelampSpeed();
 }
 }
 checkButtons();
}